John Deere Presented an Agricultural Drone
John Deere and Volocopter presented the VoloDrone agricultural drone at Agritechnica 2019, writes "Agro-Center" with a reference to Volocopter's press service.
The new VoloDrone has 18 rotors with a total diameter of 9.2 m and is powered with lithium-ion batteries. The drone can last up to 30 minutes on a single battery charge.
A user can control the VoloDrone remotely or automatically with a pre-programmed route. The potential load is 200 kg.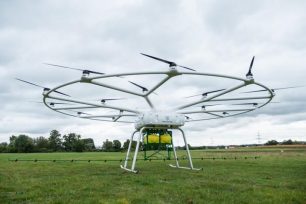 The VoloDrone has two tanks for liquid, pumps and a sprayer.