A milk map was presented in Ukraine
The map shows the volumes of high-quality milk production by region. It was developed by the analytical department of the Association of Milk Producers, writes "Agro-Center".
"The milk map of Ukraine is an analytical and infographic work of the Association of Milk Producers, created with the assistance of USAID. The main purpose of this map is to show that Ukraine has high-quality milk and its volume grows with each passing year. It took a month to create the map. The idea was born as a result of a conversation with foreign colleagues, who noted that the quality of milk in Ukraine is rather low. It is partially true but in recent years domestic dairy industry has made a significant leap in term of improving the quality and technological parameters of milk production, and we should talk about it,"
said Yana Muzychenko, an analyst at AVM.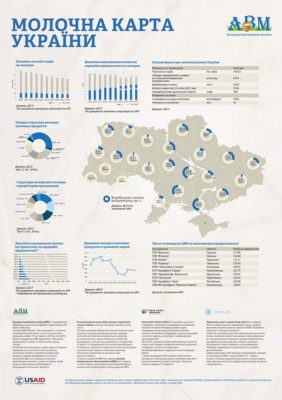 In addition, the map shows the volumes of industrial milk production by region.
"Another one of our tasks was to show, first and foremost, to foreign organizations and companies that this static performance figure in Ukraine is not 6000 kg /head (in case of the analysis of productivity of cows based on households – no more than 4500 kg /head), and more than 8000 kg/head. For example, the average productivity at the farms of the Association of Milk Producers is 8600 kg. At the same time, there are farms where the productivity is over 11 000 kg/head,"
added Yana Muzychenko.
On the map, one can see the TOP-10 most productive farms and find statistical data on the export of Ukrainian dairy products, as well as facts about the dairy market in Ukraine.